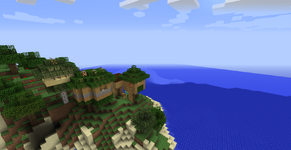 Noodleventure 2: Minion Island is the unofficial sequel to Noodleventure. It is an upcoming adventure map by Chrisoodles. It is planned to be finished Summer 2015
On Map Page:
My next big adventure map I will be will be the unofficial sequel to Noodleventure by TheBertus112 there will also be two demos.  
AFTER THE EVENTS OF NOODLEVENTURE  Think now needs to find his wife, in an island called Minion Island here he must collect diamonds and find his wife. The good news is.... She's been kidnapped by all of his enemys! Now Think and his minion friends must go get them!  It will come out on Minecraft PC this summer and to Pocket Edition this fall or next winter.  
Ad blocker interference detected!
Wikia is a free-to-use site that makes money from advertising. We have a modified experience for viewers using ad blockers

Wikia is not accessible if you've made further modifications. Remove the custom ad blocker rule(s) and the page will load as expected.