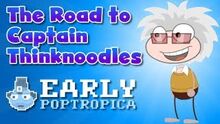 Road to Captain Thinknoodles is an ongoing series on Thinknoodles' channel, in which he plays through Poptropica islands for the first time on camera. He posts these after posting his full video walkthroughs, most of the time in parts, as it takes time to figure out the quests.
External Links
Edit
Ad blocker interference detected!
Wikia is a free-to-use site that makes money from advertising. We have a modified experience for viewers using ad blockers

Wikia is not accessible if you've made further modifications. Remove the custom ad blocker rule(s) and the page will load as expected.